7 Ways to Learn to Pray Without Ceasing
Feel guilty about not praying enough? Or wondered what it means to pray without ceasing?
I don't know about you, but I often wonder about the notion that we are to 'pray continually'. It can be a real battle to keep going with prayer on all occasions, and it can be easy to wind up feeling guilty about not praying.
Over the years, the nuns and monks I've come to know have taught me and others ways of praying that are more about freedom from guilt. They order their lives to focus on what matters, acknowledging that adoration, thanksgiving and living life to the full are all part of God's plan. There are things we can do to support a life of more continual prayer, with the support of friends along the way.
A friend recently told me that clergy spends an average of 16 minutes in prayer each day. It doesn't sound that impressive, but I wonder how it was measured? Did each vicar have to wear a prayer-o-meter and press a button at the start and end of each prayer?
Or perhaps they had an automated 'Sitbit' to track their inactivity?! And how was that prayer defined? Did it include adoration? It's a strange question, you may think, but I was surprised to discover that some people don't think adoration is a form of prayer! 
1. Doing each activity with a clear focus

What about you? How many hours of prayer do you clock up? I have no idea how much time I spend in prayer. Perhaps there's a danger, when we read St Paul's injunction to 'pray without ceasing' that we forget to read the whole sentence. It says:
"Rejoice always, pray without ceasing, give thanks in all circumstances; for this is the will of God in Christ Jesus for you."

1 Thessalonians 5:16-18 (NRSV)
So praying without ceasing is one part of a picture of our lives, showing us living in constant communication with God. Not only that, we are also encouraged to rejoice always and give thanks. It's for this reason that I include adoration as part of prayer.
When I lived in the community of nuns at Wantage, they encouraged me to live the whole of my life prayerfully, aiming to follow the words of St Paul in 1 Thessalonians 5. The sisters used an old word, 'recollection', to describe abiding in God's presence throughout the day. It means doing any activity in a way that is intentional and focused. It could mean anything – chopping a salad, completing a piece of writing, talking to a guest Rejoice always, pray without ceasing, give thanks in all circumstances; for this is the will of God in Christ Jesus for you. with a simple focus on that activity. The aim is to be fully present to God by being fully present in each moment.
Recollection, as lived by the sisters, was not about being super-spiritual, or attaining heights of ecstasy, but in fact the complete opposite – acknowledging that God is with you in what you are doing whether or not you 'feel' God's presence.
I really struggle to keep in the present. By nature, I'm quite creative, and my mind is constantly flitting to possibilities for the future, creating new schemes, and planning new ventures. These future plans are not wrong in themselves, but when I spend a lot of time thinking of the future I may forget to enjoy this moment now. It's a bit like when you are on an amazing holiday and are tempted to take lots of photos, seeing everything through a camera lens instead of truly enjoying the view!
When a person who wants to enter community becomes a novice, they have a clothing ceremony at which they receive their habit. This is an important and joyful occasion, and is preceded by a few days of retreat. I think the sisters knew I struggled with living in each moment, which was why they picked the following verses of the Bible for my clothing retreat:
Jesus said, "As the Father has loved me, so I have loved you; abide in my love. If you keep my commandments, you will abide in my love, just as I have kept my Father's commandments and abide in his love. I have said these things to you so that my joy may be in you, and that your joy may be complete."

John 15:9-11 (NRSV)
So although it might be difficult to live truly in the moment, it can be done with practice. I think it then provides us with a deeper experience of God in our lives.
2. Develop greater awareness of the present moment

Before I began to write this, I was listening to the excellent dramatization of CS Lewis' Screwtape Letters on BBC iPlayer. The letters are written by Screwtape, a 'senior devil', as an instruction to his nephew Wormwood. In this quote, Screwtape refers to God as 'our Enemy' as he addresses distracting people from the present moment:
The humans live in time but our Enemy destines them to eternity. He therefore, I believe, wants them to attend chiefly to two things, to eternity itself, and to that point of time which they call the Present. For the Present is the point at which time touches eternity. Of the present moment, and of it only, humans have an experience analogous to the experience which our Enemy has of reality as a whole; in it alone freedom and actuality are offered them. He would therefore have them continually concerned either with eternity (which means being concerned with Him) or with the Present either meditating on their eternal union with, or separation from, Himself, or else obeying the present voice of conscience, bearing the present cross, receiving the present grace, giving thanks for the present pleasure.

CS Lewis
3. Ditching the Prayer-o-Meter
I think it is good to have special times of prayer with the Lord, but not to define these in terms of clocking up minutes, since that way leads to a sense of inadequacy and depression!
My guess is that it's equally important to use our prayer times as a springboard to living a prayerful life – giving each thing we do to God. I've found that grace tends most to flood into my life when I do trust the Lord and simply get on with the task in hand, neither lamenting what I'm not able to do, or fussing about the future.
The challenge then is to learn to abide in God, living in a focused way. One of the ways we can support our daily walk with God is to set short periods aside for stillness, when we surrender our lives, remember our reliance on God, and learn to listen to the Almighty's still small voice.
4. Wired for silence: Learning to listen to God

"I'm an electrician," said a friend of mine recently at a Discovering Prayer mini retreat. "I used to be too cool to be cool, and yet now I'm blown away because God met with me in the silence."
My friend had made a couple of hours free to be in a workshop and spend a bit of concentrated time with God. He reported afterwards being transformed by God in terms of his sense of purpose for his life.
I'm increasingly conscious of our hunger to have some space in our lives, whilst at the same time trying to cram in more activity. It's a strange paradox that silence is something we fear and yet crave at the same time.
5. Quiet please! Learning to be silent

If you want to listen then stopping talking is a good idea. It's a bit of a no-brainer!
In the convent at Wantage, there is lots of silence, which I found difficult to get used to since I am naturally talkative. I wanted to learn to live a prayerful life, but I found the silence almost painful. Contrary to what many people think, there is no running away from reality in a convent. In silence, we become acutely aware of who we really are, and our many weaknesses – for me getting cross with people about trivial things, or avoiding people I don't like, among a host of others.
In the silence, there were fewer distractions that enabled me to cover up some of my less glamorous traits. Gradually, though, I began to find the silence helpful. Although I became more aware of my failings and my lack of love for others, I did not feel condemned by God or other people, but instead felt a desire to change.
Now that I am not living in a religious community, part of me wants to fill my life with noise, and I love socialising with friends, but I know that for me this needs to be balanced with times of quiet, so that I can continually develop my trust in God. The experience of needing space to listen to God is not unique to me, or to the nuns, but seems to be a common experience since ancient times and still today.
The Old Testament of the Bible describes how a prophet Elijah encountered God. Elijah had been faithful to what he believed God had asked of him, he had experienced dramatic manifestations of God, and yet he still experienced depression. When he was at his lowest ebb, scripture describes how Elijah met with God not only in whizzy experiences but in silence:
"He said, 'Go out and stand on the mountain before the Lord, for the Lord is about to pass by.' Now there was a great wind, so strong that it was splitting mountains and breaking rocks in pieces before the Lord, but the Lord was not in the wind; and after the wind an earthquake, but the Lord was not in the earthquake; and after the earthquake a fire, but the Lord was not in the fire; and after the fire a sound of sheer silence. When Elijah heard it, he wrapped his face in his mantle and went out and stood at the entrance of the cave."

1 Kings 19:11-13 (NRSV)
It seems that one of the ways God likes to communicate with people is in the silence. So for many of us, silence needs to be part of how we relate to God. It was true for Jesus and others in the Bible who sought out solitude. This solitude is not self-indulgent, but strengthens our antennae and helps us to listen to God both in our prayer times and throughout the day. It's also a place where we cannot pretend to be better than we are, or pretend to have status because of our lifestyle, work or social media profile! Before God in the silence, there are no masks, no pretence, no impressing God with our performance, but coming to Jesus just as we are. It is in presenting ourselves before God as we are that we get to know ourselves more deeply too, and learn that in spite of everything we think we are not, we come to see that we are loved – just as we are.
6. Receiving support from a praying community

It is true that nuns and monks spend a lot of time in silence and solitude, but this is always set in a community context and in a routine of corporate prayer. It seems that there is a link between being part of a community, being grounded in scripture and living a prayerful life. Certainly, I've noticed that it seems easier to pray in a group. People seem to be created to be in relationships with one another. We need the love and support of friends if we are embarking on living a prayerful life.
If you like, you can pray as part of our online community as part of the Discovering Prayer Course. 5 free audio prayer times - deepen your prayer life in as little as 10 minutes a day.  The course is our gift to you, absolutely free. Just click on the picture below to find out more.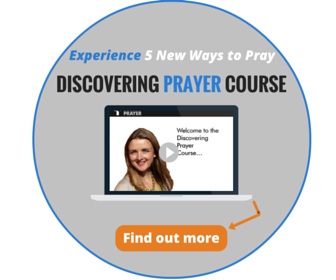 7. Taking a whole life approach to prayer

One of the ways we can stop feeling guilty – which after all is never God's plan for us – is to see the whole of life and all our activities as opportunities for rejoicing, prayer, and thanksgiving. We don't need to make Herculean efforts to concentrate in our prayer times. God delights in our efforts just as they are, and longs to draw closer to us.
It is helpful to have a prayer time, if we can set time aside, when we more fully surrender to God. In getting to know ourselves we can learn, little by little, to allow God's love to permeate what we do. For this, it helps to have the support of friends.
In Summary
Learning to pray without ceasing is probably a life's work. Here's a summary of some practical things that can help:
Do each activity with a clear focus 
One method is to quietly ask for God's guidance before dong an activity. Then do the activity in a way that is 'recollected'. The idea of recollection comes from the ancient Christian monastic tradition and involves doing one activity at a time for God.
2. Develop a greater sense of the present moment
Life becomes fuller and we become more aware of God's presence when we are aware of each moment. An activity to try is to be intentionally aware of what we are doing during an activity; to really noticing what happens, and offer it to God. Repetitive activities, such as walking, travelling, gardening, or cooking are good ones to start with.
3. Ditch the prayer-o-meter
Jesus did not leave us any precise timing for our prayers. His approach was more about having a relationship with God the Father and it's that which we are aiming to cultivate. When we judge ourselves harshly, if we don't pray as we think we ought, then this judging can be a barrier to learning to pray.
4. Wired for silence: let's learn to listen to God
Listening to God is perhaps easy to say, but not so easy to do. Often in the Bible it's the still small voice of God that speaks most profoundly to people. If we ask for God's guidance, then I believe, he will teach us to better listen to his voice.
5. Quiet please! Learning to be silent
We can build silence into our days by simply turning off the TV or radio for a while. In the quiet, we begin to discover more about ourselves and more about how to listen to God. If you're unaccustomed to silence, then even 5 minutes can make a real difference. If we allow some silence in our days then this often has an effect on our prayer times, because it enables us to listen more fully..
6. Receiving support from a praying community
Like birds in migration, sharing the load on their long journey, it's often easier to learn to pray with others. If you like you can listen to some of our audio prayer times as a way of praying online and in a community.
7. Taking a whole life approach to prayer
If we think more broadly about prayer then it becomes more fulfilling and more natural. Yes, it can be really helpful to have a prayer time, but it's also great to have times during the day for rejoicing, prayer, and thanksgiving.
What next? If you'd like to try praying online, then you can find out more about the free Discovering Prayer Course.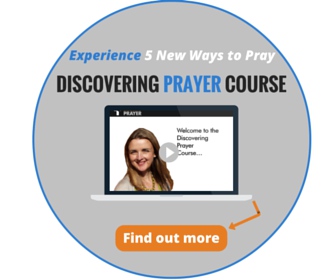 Images by: Adriana Velasquez, Ben White, Christian Gertenbach, Cristina Cerda, Jakob Owens, Denys Argyriou, Viktor Forgacs Josh Boot, Veri Ivanova, Javier Garcia, Green Chameleon, via Unsplash.com