4 Lessons from St Benedict to Help You Find True Contentment
Modern life often seems particularly busy, as we rush from one thing to the next. Daily distractions, social media, advertising and noise, and added pressures of the Christmas season can weigh us down, making it a battle to stay focused on the things that really matter. 
Do you wish that you could find a pattern of prayer that works for you and not against you in the midst of the busyness? 
Aware of this struggle, Saint Benedict, the fifth-century monk and founder of the famous monastery of Monte Cassino, wrote an instruction manual - it's called the Rule - to help his monks live life in community. The lifestyle he set out would help them maintain their focus on God, even when life was hectic, and it's a text that monks and nuns continue to follow today.
I have found Benedictine spirituality really helps me refocus my eyes on God, so I thought I would share 4 key lessons with you from the Rule.
Benedictine spirituality helps us to: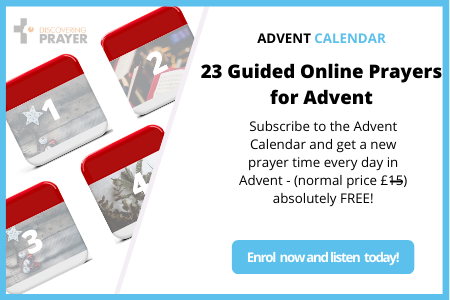 1. Focus Our Eyes on God and His Word
For Saint Benedict, the Word of God was of central importance. Indeed, the Rule contains hundreds of quotes and references taken directly from the Bible, which Benedictine monks and nuns memorise in their daily lives.
In order for Benedictine monks and nuns to know the Word of God and to memorise scripture, particularly the Psalms, the Rule sets aside regular times of individual study and prayer throughout the day and night. The Bible is also given an important place in the community's shared times, through reading, teaching, memorising and singing passages together. 
What can we learn from Benedict's focus on the Word of God?
It's all about learning to integrate a little discipline into our lives. You might like to try this in a number of ways. For example:
Read through a segment of the Bible each day, or perhaps a Psalm, to help feed your heart and mind – especially when things get busy. Try setting aside a specific time (or times) of the day for the reading of scripture, for example, first thing in the morning, at noon, before a meal or at the end of the day. 
Experiment with memorising verses – you might like to pin a verse or two from the Psalms to the fridge door to remind you of God's love through the day.
If you'd like some help with weekly or daily discipline in prayer you might like to join us in our free series for Advent and Christmas – Travelling Light, so that you can listen and pray with a community of others. 
2. Be a People of Humility
Benedict saw that humility was important for growth in holiness, so he made living humbly the core of spirituality for the monks and nuns. 
So, Benedictines give up many material things, give their life wholly to their commitment to Christ and strive to live in peace and harmony with others. This humility is also an essential characteristic of the monks' and nuns' relationship with God in prayer.
Humility has many aspects, and Benedict identified that we could be humble in many areas of life. Here are twelve different ways that he suggests. How might these ideas from Benedict's rule help you as you think about growing in humility?
Fear of God - fear in this context might be translated as awe or a sense of God's greatness
Desire to obey God and keep his commands
Be obedient to those in authority over us
Persevere when assigned tasks that are difficult or distasteful
Repent of evil thoughts or actions
Be content with life as it is and accept less favourable situations
Acknowledge our own sinfulness and accept our limitations
Keep the Rule of the religious community
Keep silence as part of living a balanced life
Avoid levity or being superficial
Speak softly with well-chosen words
Be humble in action as well as interiorly, that is, to go about daily life being honest about one's own nature before God and not having an inflated opinion of oneself 
How can Benedict's focus on humility be of use to us?
Perhaps there are two particularly helpful takeaways:
To accept ourselves as we truly are before God, with full acknowledgement of our failings. This is not a guilt trip or false pride at being worse than others. It is simply a willingness to face our own shortcomings without pretence. When we do, we discover more about the depth of God's love for us. It is this love of God which starts a process of transformation in us.
Cultivating a little more humility in our lives is not only good for ourselves but is a necessary part of being in community with others. When we truly experience God's acceptance and love for us, in spite of our own shortcomings, we gradually become better at not minding the imperfections of others.
3. Live and Pray in Community

In Benedict's time, monks and nuns were sometimes guilty of monastery hopping; going from community to community with no real settled home. To counter this, Benedictine spirituality emphasised stability and lifetime commitment to a specific community, through swearing an oath. If a brother or sister broke these promises of stability that they had made to their fellow monks and nuns, and before God, then the matter was not taken lightly!
Benedict wanted to establish a community that was authentic. First, he made sure that all who lived in the monastery were themselves committed to the Rule he had set out. Second, he created an environment where life together and the pursuit of holiness happened as a body, rather than as a combination of individuals. 
This is why, whether they are working in the garden, cooking, sharing belongings with one another, or joining in worship times together, in everything they do young monks and nuns join with seniors to build true community together. 
And equality within the community is taken very seriously. It doesn't matter what age or stage of life they are in, or whether they were born into a rich or poor family, every Benedictine is treated with the same worth and value. When it comes to deciding who the head of a monastery is to be, a leader is selected on the basis of his or her high qualities and Godly characteristics.
How does Benedict's approach to living in community challenge us?
Who are you 'doing life' together with?
Benedict's idea about community contrasts starkly with our modern individualised ways of life. Often we think about our own walk with God, our own careers and our own aspirations. Perhaps it's helpful to ask ourselves some questions about how we live. What are the communities or tribes that we belong to? Is it a sports team? A church? A particular group of friends? To what extent do we get involved and care for those in our communities?
How committed are you to the communities of which you are a part?
We probably won't make a life commitment to most of our communities, but we may find value in sticking with a community in good and not so good times. Like Benedict saw, it can be better to avoid hopping around trying to find the perfect community, and commit to one for a time.
4. Maintain Prayerful Discipline in Our Lives
Discipline is a backbone characteristic of Benedictine spirituality. Just look at the introduction to the Rule; "Who giving up thine own will, takest up the strong and most excellent arms of obedience, to do battle for Christ the Lord, the true King".
Obedience is a weapon!
Or to put it another way, a disciplined life, dedicated to following Christ and putting aside our own worldly desires, is what helps Benedictines to live a purposeful life.
Benedict's monks and nuns were required by the Rule to be holy in character and speech and to submit to the discipline of the abbey in which they lived. Today, monks and nuns try in every way they can to live holy lives, through fasting, abstaining from alcohol, and not taking part in foolish talk. Indeed, disciplining the body is one of the main disciplines Benedictines live by.
The monks and nuns are not only disciplined in how they live, but they also pay attention to how they spend every minute of their day. 
In the past, during the winter, monks would begin their routine at around 2am, starting with one hour of quiet prayer and study of the Word of God, followed by communal services and more meditation. Then at around 9:15am their day of work in the fields would begin and continue until 4pm. After that there would be more communal services, an evening meal, and Compline before stopping for the day at 5:45pm. 
Today, Benedictine communities vary a little in their timetables, but each community will have a rigorous routine of work, rest, prayer, and worship. This is there to build unity and help them to live a godly life. 
Over-dosing on discipline?
Benedict's monks and nuns live by a Rule, which is not a set of rules, but rather a way of living life in a community. Some might suggest that having a Rule is too legalistic, inflexible and too firm on matters. It might be that in following a Rule we are over-dosing on discipline!
But when you look carefully at the Rule, it is obvious that it does not claim to be the conclusive or last word. Rather, it claims that the Word of God itself has the final say and that one should not take the Rule as Gospel or as a book which has all the answers. 
Benedict's Rule was not designed to catch people out, or enforce a heavy burden of daily prayer. Instead it aimed to provide some gentle discipline in community with others. Benedictine monks and nuns show a great deal of discipline in areas which bring them closer to God. But they also often have great joy in their day-to-day life. Could it be that one helps the other?
How might Benedict's disciplined life help us today?
It is easy to have good intentions about our prayer lives. But when things get busy, spending time focusing on God can be one of the first things to slip. How might a simple daily routine help you to make space for what is most important?
You might like to spend some time thinking about what could work for you. Do you find it easiest to pray in the morning? During the day? In the evening? And where do you find it most helpful to pray? 
What other time restrictions are there on your day? Do you have times when you have to be doing other things, like work, study, looking after children? These are the work that God has given each of us to do, so we need to build time for them into our routines, too. But, like the Benedictines, we can do them with God, rather than feeling that they take us away from Him. 
In your daily pattern, can you see a time to stop and focus on God just for a few minutes? For example, you could set a daily reminder for midday and pray the Lord's Prayer. Or you could pick a Psalm that you know and speak it quietly through on your journey home.
Remember, you don't have to get it right first time, but through trial and error, why not exercise some gentle discipline in your life?
True Contentment at Christmas?
The Rule was not designed to be a rule book, but a 'Rule' more like a ruler. It's a helpful line to follow. 
This is how we can think of these four lessons from St. Benedict. Focusing on God's Word, growing in humility, praying in community and exercising some discipline over our lives. These lessons act as a guide through life, helping us to come back to God daily, even as the busyness of the Christmas season hits.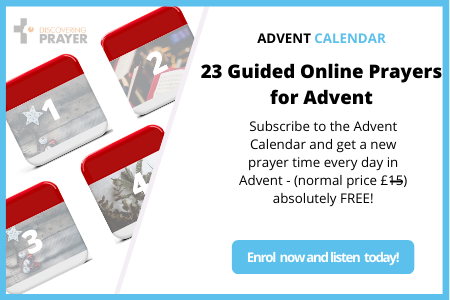 About the Author
George Watkinson was on placement with Discovering Prayer in 2016/17 while studying at Wycliffe Hall theological college. Before training to be a vicar in the Church of England, George had a mixed background and experience, starting working life in the family jewellery business in the heart of London, and later working as the executive assistant to the well-known evangelist, J.John. George is passionate about communicating his faith and helping others establish theirs, whether that's through preaching and teaching the scriptures, or whilst rowing for the Oxford University lightweight blues rowing team.