Creating a Unique Space that Helps You Pray
What kind of place do you find it easiest to pray in? Have you found a type of space that helps you to turn your attention towards God?
Perhaps you like to be in a calm, uncluttered area with plenty of light. Or maybe you have a favourite comfy chair that you curl up in with a cup of tea when you talk to God.
For some, getting out and about on a prayer walk inspires them, or for others it might be a favourite view out onto a garden. The place that works best will be different for each one of us.
It is no surprise that health and wellbeing are linked to the physical space we live in. Recent research in the scientific community has shown that our connection with places or pictures of beauty can influence our mood, reduce stress and, critically for those who want to pray, impact our behaviour and the motivation we feel to act.
If we want to grow in regular prayer times with God, making a space to pray in could be the first step.
We spoke to Catherine Clayton, the founder of charity BeSpace, about how we can create places where we can lay everything aside and come into God's presence.
Catherine knows how important it is to create a space for prayer. "Life is so busy that we often neglect to find time to nurture our inner selves. Having a physical space each day where you can go to pray and have focused time with God can be really helpful. At BeSpace we believe that creating space to 'be' will enrich our lives."
You can learn from Catherine about:
The Power of a Prayer Space for Schools

It was while Catherine was working as a teacher that the need for spaces set aside for prayer was brought to her attention.
Inspired by the 24/7 prayer movement, she decided to run a prayer space in her school. In a spare classroom, Catherine set up five creative prayer activities for a week with a team of local Christians that she'd recruited. 
The children came in to use the space as part of the religious education curriculum.
To her delight, enthusiasm grew rapidly. One particularly memorable afternoon, the prayer room was kept open after school and parents came with their children to the prayer room. This was a crunch moment for Catherine.
'I remember looking around a packed-out room as parents and children did the activities together, and had a moment of clarity. This was meeting a need that people felt at every age, whether they were 5, 10, 35 or 50.'
When the time came to pack down the prayer space, Catherine knew that this was only the beginning of a journey and not the end.
'On seeing the impact of the prayer space I ran in my school and the effect it had on both staff and children, I just knew it had to happen in other schools in Oxfordshire. So I took a year out of teaching and lived by faith to train churches in the county to run prayer spaces in their local schools. We saw 10 prayer spaces happen in the first year.'
As the opportunities began to flood in, Catherine found herself considering the idea of prayer and reflection spaces in other places in the community too. If the concept worked so well in schools, then what about at community events and in shops? Driven by a vision to provide people with a place to stop, pause, reflect and pray in the midst of a busy day, BeSpace was born.
Resources for prayer spaces in schools

Creativity and resourcefulness are what strike you when you enter a BeSpace prayer space for the first time. Far from offering a stark and empty room, devoid of distractions, every prayer space is tailor fitted with a treasure trove of resources to help engage body, mind and spirit in conversation with God. The aim is to find a wide range of resources to suit different learning styles.
A world map on one wall might prompt prayers for different countries, which can be written on post-it notes and stuck to the board. A bowl of water and dissolving tablet offer an opportunity to consider forgiveness. A short recording, played over headphones, allows the listener to spend time thinking about Jesus' teaching on forgiveness, and then to put it into action. If the participant wishes they can place a pebble into a bowl of water as a sign of letting go of a burden carried. A mirror propped up in a corner, with sayings and Bible verses around it, enable participants to think about how God sees us, and prompts prayers about identity.
For those who want to, plenty of cushions and soft furnishings are available to sit on and simply spend time reflecting, but the majority of the time Catherine finds that children want to engage with what's on offer.
The aim is to draw young people away from the assumption that prayer is only 'hands together, eyes closed' but something that can be done in any way, at any time, and in a way that is authentic to what they might have to say to God.
By fostering an atmosphere where people have permission to explore their thoughts and prayers as they feel comfortable, BeSpace not only helps Christians to grow in prayer, but it is accessible for anyone whatever stage of faith, or none, they may be at. Within each prayer space there is always a choice for participants; they can choose to use the space for activities to reflect or to pray.
Catherine explains, 'The prayer spaces we run, or train local churches to run, are open to those of any faith or no faith to use. All the activities that are within a prayer space for people to engage with need to be accessible for those with a different faith or no faith. For example, we can all be thankful for different things, it's just that Christians choose to direct their thanks towards God.'
But is our secular culture even interested in spirituality and prayer? Well, the numbers speak for themselves. Over 80,000 young people in Oxfordshire have now had the opportunity to connect with God in a prayer space and over 120 schools have experienced local churches serving the spiritual life of their local school through prayer spaces. That is over a 1/3 of the schools in Oxfordshire.
Using Prayer Spaces to Help You Get Into a Routine of Praying Regularly
For many, the idea of praying can seem overwhelming. We can be fearful of being left on our own with our thoughts, unsure what to do, or how to engage with God. Catherine herself is no stranger to the challenges that face us when we make a decision to grow in prayer.
'It is not easy! But I have discovered that the best way for me to connect with God is through journaling and listening to worship music; I'm aware that as I learn more about God, he will reveal new ways for me to encounter him.  Everyone has different learning styles and everyone has different ways of praying. I think it is important to find ways that work for you to pray.'
As Catherine has seen, creating your own prayer space can offer the inspiration you need to start praying.
'It can be the catalyst to help people begin to consider how they can create space for God in their daily lives. It provides ideas that will help people pray everywhere. Ultimately the aim is that we are excited about the potential of praying as we walk to the shops, when we wake first thing in the morning, when we are in need, when we see others in need, when we are thankful for something. The physical space is part of a journey to enable people to pray every day.'
If you're interested getting into a routine of prayer you might like to check out our two-wee series the Discovering Prayer Course.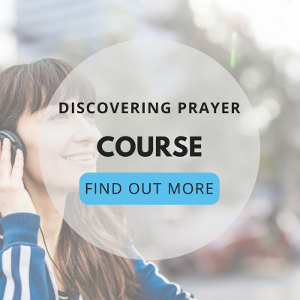 Creating Your Own Space to Pray
So how can we go about creating a space for ourselves which will inspire us to pray? Follow our five top tips to help you set the scene in a way that might work for you.
1. Take stock
Where do you regularly pray?  Could you establish a particular place or chair where you can be alone, or relatively undisturbed?
2. Decorate your space
When you come to your time of prayer (which could be for as little as five minutes) are there some symbols or a particular atmosphere that would help you to focus on God? 
You could also consider lighting a candle or fairy lights, creating a prayer board, with images of beautiful scenes, or photos of people you'd like to remember in prayer. You may also find objects such as a beautiful piece of bark or stones, or a holding cross are helpful.
You could use a kneeler to pray, if this is useful for you, or some big cushions or a beanbag, if that would be better for you.  The aim is to get into a posture that helps you pray.
3. Something to listen to
For many of us, the way we engage best is by listening. For Catherine, listening to Christian music is important. You might find that listening to guided prayer times would be a helpful way to furnish your prayer space. If you'd like to be introduced to five different types of prayer times through audio recordings, then explore our two-week series the Discovering Prayer Course.
4. Stick with it!
Once you've thought of a new thing or two to try, you may find it useful to stick with it for a while.  Sometimes that act of going to the same place or lighting the candle/or whatever else begins to automatically put you in a prayerful mindset.
5. Keep things fresh.
Whilst some routine is good, you may also find it helpful, as Catherine has suggested, to keep your prayer space gently changing, you could plant seeds and watch them grow each morning, or change a picture to mark the changes of the seasons, or try out drawing and praying.  The aim is to learn, like those with whom Catherine works, to learn to play and to truly enjoy prayer.
Whether you would like to experiment with creating a space that inspires you to pray on your own, or are thinking about helping others explore spirituality in your church, school or community centre, there are plenty of resources to help you get started.
On the BeSpace website, and Prayer Spaces in Schools website, ideas abound for prayer rooms centred on different liturgical themes such as Lent, Easter, Advent, or that explore various topics such as values, special places or adventures. BeSpace has even done a Narnia inspired prayer space. It's well worth visiting the Bespace resources page and browsing through the different prayer ideas and instruction sheets.
Catherine Clayton is the co-founder and CEO of BeSpace, she is also a part of the National Prayer Spaces in Schools Team and is a consultant for the Diocese of London on Prayer Spaces in Schools. If you are based outside of Oxfordshire, then the best point of contact for you is the Prayer Spaces in Schools website.
And if you'd like to be encouraged to get going and keep going in prayer through listening to daily recorded prayer times, then check out the Discovering Prayer Course.